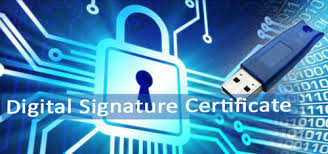 Digital Signature Certificates
Get Digital Signature for CBSE, Trademark, Roc Filing, Income Tax, GST, EPFO, Tender, etc. Apply Online and Download Digital Signature in 30 Minutes. Call and Live Chat Support. Free USB Token Delivery. Call & Live Chat Support.
Digital Signature Certificate (DSC)
Digital Signature Certificate DSC is an incumbent digital tool for the digital document signing process and storing essential data. Many government departments and other service sectors have relied on the usability and the salient features of DSC for signing electronic documents/forms. It provides multi-level assistance of cyber security to the confidential data exchanged and various online transactions performed.
Digital Signature is a computation of a mathematical algorithm encrypted by hash values that store some particular message. This digital signing certificate resembles the physical paper-based certificate and documents are signed digitally. It protects the data by using encryption-decryption mechanisms.
As per the Information Technology Act 2000, the Government of India, it is essential to file any tax returns submission, registration form, and e-procurement with digital signature certificates. This assures no alteration or modification of the exchanged information and validates the signer's identity.
Capricorn digital certificates meet x.509 standard which is an international Public Key Infrastructure PKI standard. These certificates provide a safeguard against malicious cyber threats, forgery, and data breaching. It can be issued as per IVG & IOG guidelines directed by the Controller of Certifying Authority CCA.
Capricorn CA provides different types of Digital Signature Certificates DSC to individuals and organizations through different application modes. According to the signing needs, DSC applicants can select any suitable DSC type and apply for it. Below is a brief description of the various types of digital signatures.
Type of DSC Certificates
SignSign certificates can only be used for document signing. This digital signing solution can sign PDF files or documents for income tax returns, GST returns submission, MCA, and other web-based services. It authenticates the user identity and validates the bonafide nature of data.
EncryptThis DSC certificate is used to encrypt documents, files, or confidential data. It helps companies or enterprises to encrypt and upload their documents on the tender portals. One can also use this certificate to encrypt their personal data and send that securely. Encrypt DSC is commonly suitable for e-commerce documents, e-tender filing documents, legal documents, and other confidential records. You can buy our Encrypt certificate as a standalone digital signing tool.
Sign & EncryptThis Sign and Encrypt digital signature certificate can be used for both signing and encrypting processes. It is mostly used for filing government forms, documents, and applications. It is much suitable for those users who need to authenticate and maintain the confidentiality of the data exchanged.
Validity of the Certificate
You can buy the digital signature certificates with a validity of 1, 2, & 3 years. (This validity is controlled by the regulatory body i.e the Controller of Certifying Authority CCA. You can not buy a DSC with the validity of less than 1 year or more than 3 years.)
Classes of DSC Certificates
As per the new guidelines released by the Controller of Certifying Authority CCA, Capricorn CA can issue class 3 Digital Signature Certificates to their clients. However, the previously issued class 2 certificates will remain active and in use.
Class 3 Digital Signature Certificate (DSC)Capricorn offers Class 3 DSC according to IVG guidelines which are considered the most secure and safest form of a certificate. Its applications are derived where security and safety of the data are the most essential factors. Certain usage of this digital signature certificate is in the filing of tax returns, tender filing, e-procurement, online trading, etc. These processes include huge money transactions and confidential information of the signer which can only be preserved by DSC.Following services can be availed by using Class 3 Digital Signature Certificates:

e-Tendering
Patent and Trademark e-filing
MCA e-filing
Income Tax e-filing
LLP registration
Customs e-filing
e-Procurement
e-Bidding
e-Auction
GST Application filing
Who could buy our certificate
Any individual or organization can buy our Class 3 Digital Signature Certificate which is applicable for Indian nationals and foreign nationals both. There is no such limitation or restriction to buying DSC, provided that they should meet our verification guidelines and conditions. Check below all the given application forms and select accordingly.
 IndividualsThe DSC is for Indians, who do not want their organization name to be part of the certificate. 
 OrganizationThs DSC is for companies (any type of entity), who want their organization name to be part of DSC. 
 Foreign IndividualsThe DSC is for foreigners and would like to use our certificate in their name. 
 Foreign OrganizationThe DSC is for Organizations registered outside India would like to use our Digital certificates. 
 Document Signer CertificateIf you intend to use our certificate for bulk signing of documents, you could use our Bulk Signer Certificates. We would offer this certificate in PFX file for Class 2 and is sold to Organizations only. 
With the help of Class 3 DSC, the documents/forms can be signed digitally within a few minutes anywhere and anytime. DSC can be used for online income tax filing, goods, and services tax filing, IPR, IRCTC, etc.
We provide different DSC application modes through which you can apply for your DSC as per your preference and convenience. Let us discuss them briefly.